Parents ask us almost every day, "When should my child see an orthodontist?" Many parents are surprised to find out that the American Association of Orthodontists recommends that a child receive their first orthodontic exam by the time they turn seven.
Learn more about what age to see an orthodontist and about our conservative approach to early orthodontics.
Why a Child Should See an Orthodontist by Age 7
There are many advantages to beginning orthodontic check-ins at this age. Yearly check-in appointments give parents the opportunity to build trust with an orthodontist. That way, when the time comes to start thinking about orthodontic treatment, parents already have a working relationship with someone they know.
While some children's teeth look straight, underlying conditions may affect the eruption of their adult teeth. Habits like thumbsucking or pacifier use can lead to teeth crowding and issues with the upper and lower jaw. These potential problems will be much more visible once the adult teeth emerge.
During these younger years, jaw and tooth development are more elastic. This lets your orthodontist get ahead of small concerns before they become bigger issues. Starting treatment before all the adult teeth have emerged allows an orthodontist to develop a more ideal growth pattern for their future adult teeth.
Catching problems early allows your orthodontist to intervene during crucial developmental stages. If necessary, early treatment may help improve your child's alignment.
Additionally, early orthodontic intervention can help you:
Promote jaw development.
Improve oral hygiene.
Enhance appearance.
Contribute to natural smile development.
Decrease tooth protrusion and related injury.
Improve how the lips come together.
Unfortunately, orthodontic problems usually don't sort themselves out. Luckily, at Harvey & Thomas Orthodontics, you don't need a referral from a dentist to bring your child in for a free consultation.
Signs a Child May Need an Orthodontic Exam
Many orthodontic issues require thorough exams to identify. Only an orthodontist can provide the highest level of care for your little one. That said, there are some red flags that indicate your child may benefit from visiting an orthodontist.
Consider scheduling an appointment with an orthodontist if you've noticed your child has any of these conditions:
Adult teeth emerging early or late.
Uncomfortable jaw position.
Crowded teeth.
Significant gaps between teeth.
Thumb or digit sucking.
Difficulty chewing or biting.
Grinding teeth.
Hearing popping sounds in the jaw.
Prolonged biting inside the cheek.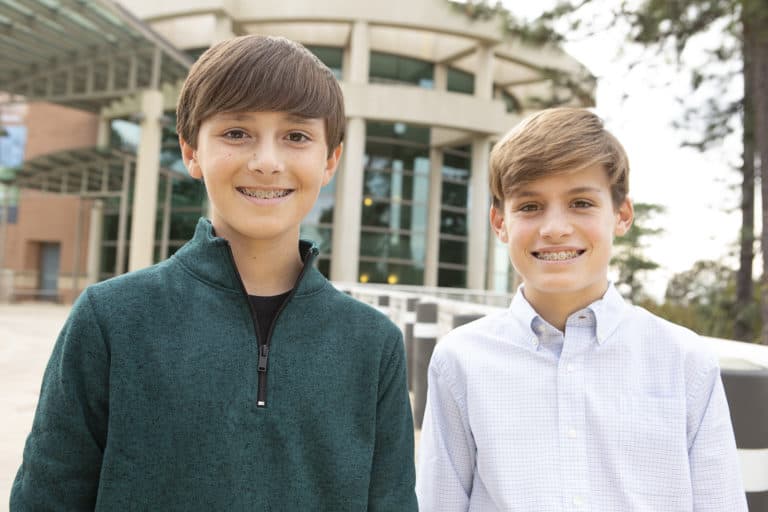 Your child's first visit to Harvey & Thomas Orthodontics will include a thorough exam of their mouth. We use visual evaluations, digital x-ray technology, and digital photos to get a sense of your child's needs. These procedures are painless and only take a few moments to complete.
Drs. Harvey or Thomas will analyze the records to determine the next steps for your child's needs. We will check their smile for many problem areas, including:
Overbites, crossbites, underbites.
Jaw irregularity.
Uneven tooth loss or eruption.
During your free consultation, we will provide some great tips for how to maintain their smile. That way, your child develops a healthy relationship with taking care of their teeth.
Does Every Child Need Braces?
While there are exceptions, most kids won't need early orthodontic treatment. Scheduling check-ins every six months lets us monitor your child's growth and get a handle on any hidden complications.
If we don't see any immediate concerns, we will schedule a follow-up visit six months from that appointment. If anything out of the ordinary arises, we will advise you on the next steps.
Drs. Harvey and Thomas believe in a less-invasive, conservative approach to orthodontics. They will not recommend palatal expanders or tooth extractions unless absolutely necessary.
Board-Certified Orthodontics for Kids in Mobile, AL
It's only natural to want the best for your child.
Bringing your child to one of our three Mobile locations can put them on the path toward a more healthy smile. Most children do not need early orthodontic treatment. You can ensure that their development is on track by checking in with an orthodontist every six months.
Plus, if your child does need some help, it's much easier to fix problems early on. Early treatment is much less invasive with better results.
Drs. Harvey and Thomas have helped people of all ages enjoy a more balanced smile. Find out why so many people love our personalized service and professionalism.
Get started now by requesting a free consultation online or calling us directly at (251) 479-9597.