Many patients ask us how long they will have to wear braces. The truth is: there is no hard-and-fast rule for braces treatment length. Modern braces options have fast-tracked the alignment process, but the average length of braces wear still depends on many factors.
Learn about the braces treatment duration for Damon Braces, Damon Clear braces, and clear aligners!
Find out more about your treatment options during a free consultation.
How Long Do You Have Braces For?
Your treatment time will depend on the current state of your teeth. For example, does your smile have missing, crooked, or gapped teeth? Do you have a deep overbite? Your orthodontic needs may dictate your treatment options.
Additionally, not everyone responds to treatment in the same way. The complexity of your case can affect your wear time. Many things can happen that influence how long you may need braces. In some cases, some people may have teeth that move quicker than others.
Other variables like age can affect your treatment. Because adult teeth are more established, they may need more time to get results with braces. Likewise, younger children with severe jaw misalignment may need to wear braces for an extended period.
That said, the average orthodontic treatment can take anywhere from 16-24 months to complete. During your free consultation, we will take digital X-rays and diagnostic photos of your mouth. We will use this information to give you a proposed timeline for your treatment. Additionally, we will attend to you with the utmost care and fully answer all your questions about treatment.
Taking the first step toward a more natural smile starts with a visit to Harvey & Thomas Orthodontics. Request an appointment at one of our locations now.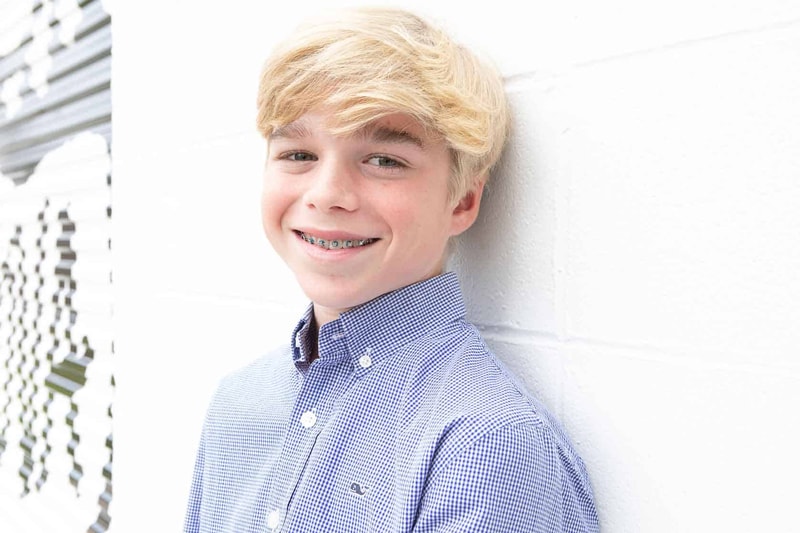 The Average Length of Braces Changes According to Treatment Type
There are many different approaches to correcting your bite. Each offers a comfortable treatment with undeniable results.
At Harvey & Thomas Orthodontics, we offer the following orthodontic options:
Damon Braces
Damon Braces use a bracket that self-regulates. This innovative bracket mechanism allows you to enjoy around-the-clock tightening with fewer in-person appointments. Because it's always working, patients may start noticing results in as little as six months, but it typically takes 16-24 months to realize your results fully.
Damon Clear Braces
Damon Clear braces utilize the same incredible Damon Braces technology, but feature transparent components that blend into your smile. Patients with clear braces enjoy an inconspicuous and undetectable treatment. Damon Clear braces have a similar treatment time frame as their metal counterparts.
Clear Aligners
Clear aligners use a system of form-fitted appliances that gradually rejuvenate your smile. The lightweight design of clear aligners allows for more freedom during your treatment. Generally, treatment with clear aligners can take 12-18 months, but some people may start seeing results much sooner into treatment. We offer Invisalign, Spark, and an in-house clear aligner system.
The Best Orthodontist in Mobile, AL
Getting the smile you've always wanted is an investment. Whether you're interested in braces for a child, teenager, or an adult, the experts at Harvey and Thomas Orthodontics know how to help you get the most out of your smile.
There's never been a better time to start taking the first steps toward a perfect smile. Call us at (251) 479-9597 or request a free consultation now.